Church Experience #36 – September 18, 2011
Harvest Bible Chapel – Chattanooga, TN
Despite My Best Efforts
A few months back I spent a day volunteering at J-Fest, which is an all-day Christian music festival put on by the local Christian radio station, J103.  I served at the information booth for Men's Ministry Network, a local ministry that I am involved with, and during part of the day I thought it would be a good idea to visit the rest of the booths at the festival to get information about other local churches that I might visit this year for the ChurchSurfer blog.  Just a few spaces down from our booth was an energetic group of people representing a yet-to-be-officially-launched church called Harvest Bible Chapel.  I thought it was a little odd that a church that technically did not exist yet (although as Christians we all know that this group of people was already a church) would have a booth at a Christian music festival (which translated means I can't believe a church would actually be that organized and able to plan ahead, especially one that hasn't even launched yet…but then again, maybe that's why they were able to be organized…they weren't dealing with the craziness of full-on church life yet).  So I gathered some literature from them, which I of course didn't really look at (limited time), and was invited to an informational "party with the pastors", which I of course didn't attend (limited energy), and then I filed a reminder to attend their first real worship service in the back of my mind somewhere (limited capacity) that pretty soon got lost (limited functionality).  I thought it would be a really cool experience to attend the first-ever worship service of a new church, but as you can see, I obviously had all of my excuses in place in case I missed it.  Apparently God had a different plan for me, because despite my best efforts to botch this up, someone (don't ask who, I've already filed that info away) mentioned the launch of Harvest Bible Chapel Chattanooga to me in conversation a whole week in advance of their inaugural worship service of Sunday, September 18, which rattled my forgotten memories of J-Fest back into focus.  I can usually handle remembering something for a week, so I felt confident that I would make it there on Sunday and experience the (public) birth of a church.  Here's how it went…
Not A Regular Old Sunday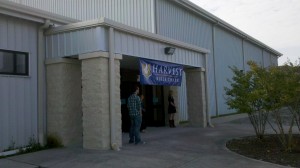 My wife, Laura, and I pulled into the gravel parking lot of the building that used to be David Brainerd Christian School off of Igou Gap Road (now East Brainerd Intermediate School), which is temporarily transformed into Harvest Bible Chapel Chattanooga on Sundays.  Parking lot attendants guided us in, and four door greeters were posted at the front entrance with looks of excited anticipation on their faces.  By the time we stepped out of the car, the parking lot attendants converged on us with handshakes and smiles, and then gave us piggy-back rides to the front entrance where the door greeters were ready and waiting to open the doors and roll out the red carpet…OK, it didn't happen like that at all, but I thought it would be really funny to lead you on a little bit.  The parking lot attendants and door greeters were all extremely nice and you could definitely tell that there was excitement in the air among these people who had probably been looking forward to this day for quite a long time.  Just inside the front entrance we were greeted at an information table by Steve and his wife Deborah, who engaged us in conversation and shared their Chattanooga relocation story and then listened with interest as we told them a little about ChurchSurfer.  While talking with Steve and Deborah I glanced down the hallway and noticed a flurry of activity all around, with people making introductions, laughing together, and shaking hands, all with an obvious escalation of enthusiasm beyond what you would expect to see on any other regular old Sunday at church.  We headed toward the gym, which also serves as the Harvest Bible Chapel sanctuary, and were greeted by the pastor's wife, Jaime, and more door greeters, who welcomed us with a smile and handed us a bulletin as we entered.  The inside of the gym was not overly decorated…it really just looked like a church service in a gym (not being critical, just pointing out that it didn't seem "overdone").  There were sheets of blue plastic covering the wooden gym floor for protection and rows of stack-able cushioned chairs were lined up facing what would be a "stage" area with black pipe and drape serving as a back drop.  The worship band, which consisted of a guitar, bass, drums, and a female vocalist, stood in front of a large projection screen and there was a sound technician at the back of the room surrounded by sound equipment.  Everything looked to be set up very professionally, and I remember thinking to myself that it seemed like they had done this before (I also remember someone saying there were now 70+ Harvest Bible Chapels, so they've probably got a pretty good church-planting system in place).  I saw some people I knew around the room and said some hello's and also met a few new people while waiting for the service to start.  The couple in front of us told us that their son was the guitar player in the worship band, and I could sense that they were proud parents and were excited about their son's new endeavor.
Setting Expectations 
The service began with a time of lively and free-spirited worship, mostly made up of well known contemporary worship songs that were easy to sing along to.  Lots of people lifted their hands or clapped as they sang, and the band had a full sound but was not overpowering.  After a few songs the pastor, Mike DuBard, gave a speech to welcome everyone in attendance and to recognize all the hard work that went into preparing for this special day.  He introduced the church plant team and showed some recorded video messages from other Harvest Bible Chapel pastors who congratulated the newly created HBC Chattanooga.  He then led the congregation in prayer, which included intercession for two other Harvest Bible Chapels that were launching in Knoxville and Northern Kentucky that same day.  Pastor Mike then prefaced his sermon by announcing that everyone would need a Bible in hand (and directed the ushers to pass out Bibles to anyone who didn't bring one) and then pointed out that Harvest Bible Chapel believes in teaching the Bible and sharing the Gospel without apology, because "when the Word is preached, transformation happens".  He began the sermon by reading Colossians 1:1-8, and then read back through the same verses, expanding on each one with additional insight to provide clarity and understanding.  Pastor Mike taught with a calm confidence, speaking plainly and with conviction but not overly emotional.  It was apparent to me that the sermon contained a clear message about expectations for this newly established church (which I will attempt to illustrate with sound effects).  He spoke about how Colossians was written by Paul to a church plant (boom), to commend them, encourage them, and instruct them (boom, boom, and boom).  He noted that real faith is seen, and he exhorted the congregation to be serious about practicing genuine love, having eternal hope, and actively sharing the Gospel (ba-blam).  Pastor Mike also spent a few moments talking about how Chattanooga is a battleground of Christianity, and although there is seemingly a surplus of churches that already exist here, many of them are filled with people who are looking to break out of their spiritual rut, to which he responded, "bring us those people".
Final Thoughts 
After the service wrapped up, Laura and I spent a short time bidding farewell to all the great people we had met.  When we left, I couldn't help but feel infectiously optimistic about Harvest Bible Chapel and the mission they have embarked on to serve the Lord and preach the Word in Chattanooga.  It is not hard to display marked enthusiasm on the very first day of a new church…you get a similar "this-is-the-first-day-of-my-new-life" type of feeling as you did the day you graduated college or the day you were married.  We all know the real test comes a year from now, five years from now, and twenty years from now, when the "newness" factor has worn off and real life sets in.  Are you still as "crazy-in-love" with your wife after you've seen her at her "worst" (notice the quotations, honey) with bed-head, no makeup, a frumpy nightgown, and pillow case wrinkles on the side of her face?  Are you still as "gung-ho" about your career after you've logged countless twelve-hour days, years of being underpaid, a boss who never expresses appreciation, and being passed up for a promotion by the guy half your age?  Will the people of Harvest Bible Chapel still maintain the same level of fervor for their church through the bad times as well as the good?  If you put Christ first then the answer to all of these scenarios is "yes".  God is faithful.  Christ is our strength.  The Holy Spirit is our empowerment to commit ourselves to being disciples.  To live is Christ and to die is gain.  May we all share in the joy and passion of Harvest Bible Chapel as they embark on their mission for Christ in Chattanooga.  I know that their congregation will be a welcome addition in the cause of advancing the Kingdom in this city and that their love will impact the nations.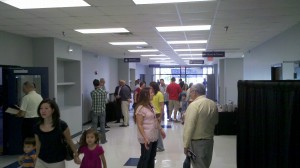 If you enjoyed this article, please click the Google +1 button at the top or bottom of the page to help others find it also.
Please share the ChurchSurfer blog with anyone you know who may be interested, and I also invite you to connect on Facebook and Twitter.  Please post comments below, and you can email me directly at josh@churchsurfer.com.
Grace and peace in Christ,
Josh Davis