Church Experience #47 – December 11, 2011
New City Fellowship East Lake – Chattanooga, TN
Community
Having a collective experience with a group of people is a very powerful thing that evokes very personal emotions.  We all know that.  It's what the whole foundation of church is based on.  None of this was intended to be experienced alone.  Worship, prayer, fellowship, love, service, sacrifice…while they can (and should) be done alone, the coming together of a family or community of believers magnifies them exponentially.  Jesus even went so far as to say "…for where two or three come together in my name, there I am with them." (Matt 18:20)  God wants us to come together and experience things collectively.  Collective emotional experiences are more powerful, attractive, lasting…they can warm you right down to your bones in a way that private personal experiences simply cannot.  Have you ever had a mind-blowing epiphany?  How about an extremely vivid dream?  Or maybe an amazing feat or accomplishment that nobody else witnessed.  The first thing you do is look for the closest person to share your experience with…am I right?  So it would stand to reason that when churches come along within a community that capture the essence of that community and people get engaged and engrossed, so much so that it births this growing and developing collective experience with each other and with God that begins changing lives…people talk about it.  Other people hear and want to be a part of it.  People may not even understand it but they can see that there is something to it.  It ignites internal fires that may have been long forgotten or even undiscovered, and when these fires are lit and have a source of fuel to keep them burning they jump out and light other fires and as the Spirit wind blows, the fires continue to spread.  These are the types of experiences that can envelop and impact a whole community.  These experiences become real life stories that we are compelled to tell and share with others.  I'm here to tell this story about the community of East Lake in Chattanooga…there's a fire down there.
A Fancy Rhino? 
I'm not sure the exact sequence of events this year that led me to find out about New City Fellowship East Lake, but the two memorable things that inspired me to actually attend a church service there were:  1) attending the New City Fellowship on East 3rd Street and seeing the cultural and racial unity there, and 2) meeting Drew Belz.  Drew works with a few other fresh-out-of-college-guys at a video production company called Fancy Rhino.  After having met up for coffee earlier this year, Drew explained to me that after graduating from Covenant College, he had moved into the East Lake community and worshiped at New City East Lake.  I also lived in East Lake about fifteen years ago and was shocked to hear the passion with which Drew spoke about his beloved neighborhood (my recollection of living in East Lake was being approached to buy crack, weed, watches, or jewelry every time I stopped to pump gas at the little convenience store directly across from the housing projects on 4th Avenue).  So it more than grabbed my attention when Drew spoke about wanting to live there because he thought it was important to be a part of the community where you worship (which I assumed he was contrasting with those who prefer living on the "safe haven" of Lookout Mountain and driving down once a week for church in the "icky" part of town).  I instantly liked this guy…he actually reminds me a lot of me at his age, when I used to do crazy things like become homeless and drive around the country for six months living out of my car so that I could be accepted by street people and share the Gospel of Jesus with them on their level.  He cares about the East Lake community so much that he used his Fancy Rhino resources to produce a video entry (from which I stole the title for this article) for the Chattanooga Neighborhood Enterprise "My Neighborhood Rocks" contest, and of course ended up winning the grand prize for the East Lake Neighborhood Association.  You can understand why, after meeting Drew and also another firecracker-of-a-person in Heather Jones, who works for Big Brothers and Big Sisters of Greater Chattanooga, I would want to go to New City East Lake and experience it for myself.  Here's how it went…
Rebirth of a Building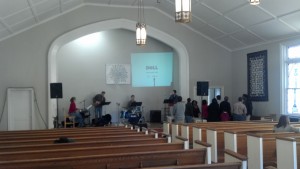 Laura and I walked up the steep concrete steps ascending from the front sidewalk and through the front door of the large brick church that does very little to hide it's age on the outside.  We entered directly into the sanctuary where we were greeted by the strong smell of woodwork and jazzy instrumental Christmas music coming from the musicians on the stage at the front of the room.  The sanctuary looked to be meticulously refurbished, with lacquered and polished natural wood floors and white walls that still had the old pastel stained glass windows embedded as reminders of a previous era.  Just like its parent church and namesake a few miles away, the New City Fellowship East Lake building serves as a metaphor of Christian rebirth with the way it displays its surface flaws as a sign of character yet has been swept clean by redemptive grace and is now full of jubilant life.  These re-purposed buildings shine with vibrancy and serve as a stark contrast to and argument against modern trends of building megachurch structures with all the latest luxuries and amenities.  This building didn't even have central heat, but instead boasted old fashioned radiators up and down the aisles on each side of the sanctuary.  Was it shocking that nobody seemed to care or complain?  I spotted Heather among the groups of people spattered around the room and took my wife Laura over to meet her.  She welcomed us warmly and offered to show us around and take us downstairs to the fellowship hall where they were serving refreshments for the children's Sunday School classes and their parents.  Each room we walked by had few creature comforts and pretty much looked exactly how you would expect a church in a low-income neighborhood to look.  There was a variety of mismatched chairs, chalkboards, old tables, children's toys, and not much else.  One room had an espresso machine with two people behind it working feverishly to grind and brew cups of deliciousness for a line of eagerly awaiting jitter-junkies (what the room didn't have was finished walls…their priorities are obviously in order here :)).  Once downstairs, we looked on as a room full of children and parents fellowshipped over cookies and juice, and Heather introduced us to the Senior Pastor, Jim Pickett.  Pastor Jim welcomed us with the utmost hospitality and spent a short time getting to know us through conversation and listening with marked interest about the ChurchSurfer blog.  We talked until our internal alarm clocks began warning us that it was probably time for worship to begin, so we headed back upstairs for the service.
Cultural Christianity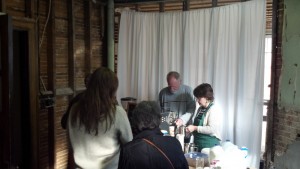 As worship began, the pews filled in to maximum capacity (much like they had at North Shore Fellowship), which always brings joy to my heart knowing that I am surrounded by a crowd of people who have gathered to worship the King of kings.  The contemporary praise and worship music was uptempo, fun, and joyful.  There was a full worship band with a keyboard, bass, electric guitar, and drums, and a female worship leader with a really big smile and an even bigger voice.  The music felt like it was there to facilitate worship, not be the worship…this is a phenomenon I am pretty sure I have tried to explain before but I can't remember which article that explanation is in (sorry).  All I can say is that it feels like worship is happening…like hearts and minds are being poured out through song, not just people singing words.  All in all, that is also the feeling I got from the the whole church experience that day.  My exact notes in shorthand were:  "Church felt like church. Not a production or event, but a gathering of a community to worship and hear the Word preached together."  After worship, visitors were asked to stand up and be recognized (but not asked to say anything, thankfully), and then there was ample open greeting time for people to walk around and offer handshakes and hugs to the people all around the room.  There was also a time for announcements and a greeting in Spanish for the Spanish-speakers in attendance, which showed that this church was intentionally engaging the Hispanic population in the East Lake community.  We then sang one more hymn, "It Is Well With My Soul", and then sat as Pastor Jim came to the front to give the sermon for the day.  He began with a few comments about communication and unity between the two New City Fellowship campuses, which included a prayer request for the congregation to pray against division and also against the spirit of "cultural Christianity", which is so deeply ingrained here in the South and which seemed to be a specific battleground that New City East Lake has chosen to engage (as well as racial harmony).  Pastor Jim then delivered a pretty lively sermon (apparently his daughter offered some critique by telling him he shouted a lot this week), dealing mainly with Jacob's wrestling match with the God-person in Genesis 32:22-32, and all of the spiritual-life-inferences we can pull from that scenario.  He gave plenty of insight and related much of it back to the issue of cultural Christianity and how we must boldly engage God with our lives rather than stand on the sidelines and "officiate".  Good stuff!
Generational Unity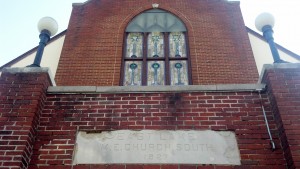 One thing of note from my experience at New City East Lake was that there was an abundance of young people in attendance.  My exact thought as I looked around the sanctuary at all the teens, twenties, and thirty-somethings in attendance was:  "If you want to know where all the young people in Chattanooga go to church…I found them".  The truth is, there are a few other churches that I have noticed this same trend in, and if you have followed this blog throughout the year you will remember reading about them.  My experience has been that young people are flocking to the churches who, like New City East Lake, are taking a stand against cultural Christianity.  Some of the churches are sort of unknowingly doing it without specifically calling it out, but my guess is that if they attempted to define the root issues that have provoked them to arrive at where they are, they would be one in the same.  Generations X, Y (Millennials), and Z (New Silent Generation) are not interested in maintaining the status quo of cultural Christianity in the South.  In fact, they are not really interested in maintaining any type of status quo at all.  They are more interesting in questioning why things are the way they are, and when necessary, exposing the dirty little secrets that they find.  The thing that I believe the younger generations lack, is the ability to create a consensus for actionable change when change is needed.  This is where the Baby Boomers come in.  They were better at enacting change, and this is why congregations like the one at New City Fellowship are gaining momentum…they have united the generations under a common purpose.  None of these people are buying into the complacency and staleness that has become Christianity in the South.  None of these people are satisfied with remaining lukewarm in their faith.  None of these people find fulfillment in simply believing in God and never serving Him.  None of these people will watch silently as the culture around us tells us that racism, sectarianism, bigotry, elitism, materialism, or narcissism can coexist in our hearts with the love of Jesus Christ.  So what is the moral of the story?  There is victory in Jesus!  Cultural Christianity is being exposed for the lie that it is.  If you want life, Jesus said these words:  "I came that they may have life and have it abundantly" (John 10:10).  The life that Christ intended for His followers is one of purpose, action, and power.  It is a full-contact life of wrestling, just like Jacob at the Ford of Jabbok.  I count myself blessed to have been engaged with this type of Christ-following church at New City Fellowship East Lake.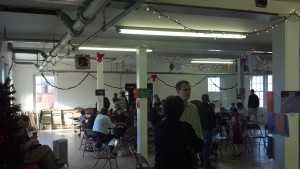 If you enjoyed this article, please click the Google +1 button at the top or bottom of the page to help others find it also.
Please share the ChurchSurfer blog with anyone you know who may be interested, and I also invite you to connect on Facebook and Twitter.  Please post comments below, and you can email me directly at josh@churchsurfer.com.
Grace and peace in Christ,
Josh Davis